Don't you guys mean
casinos
?
If this whole new city of lights is a result of Gruntilda and Count Fester's actions, I would imagine that they cared alot more about having people gamble and taking all of the money for themselves rather than hotels for people to check into as they were passing through.
I mean, I understand that Las Vegas has a TON of places that are part hotels, part casinos -- but I really doubt that Count Fester and Gruntilda would care about people being comfortable in the slightest. Even if they DID run a bunch of hotels which contained each of these new worlds, they would probably ensure that the room-service would be as horrible as possible.
Up until I read a post saying that Honeybee Mountain was surrounded by mountains and had a large tree in the center, I imagined it this way... you would walk into the Casino. Of course, there would be slot machines and so-on right when you walked in... but the rest of the casino would look something like this: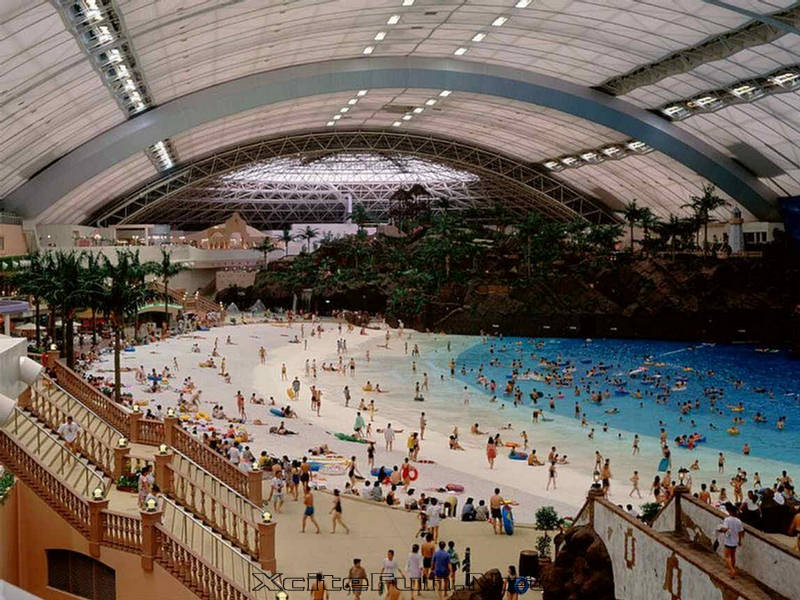 The image above is an ocean-dome in Japan. That's right, an INDOOR BEACH. I pictured Honeybee mountain being a cool place inside of a dome almost like this, with a beehive-like mountain that had jiggy floating just above the tip of it. I would imagine the mountain being over where the trees are, only there would be alot more of the trees and mushrooms and stuff than the large lake with the bridge over it. The closest thing that that I can compare the way that I picture this level to is Nutty Acres from Nuts & Bolts.
About the whole slot machines and other things, though -- let's just say that the level was in 10 pieces... the slot machines would just take up half of 1 fraction of the 10 pieces and they would only be there to say, "Hey! This is a casino! Look at our slot machines!". Couldn't you see Boggy on a slot machine? Not that it would have to be a mission in the level, but what if he lost the kids again as a bit of a joke-reference to when they got lost in Witchyworld in Banjo-Tooie?
Banjo would say hey to Boggy. Boggy would say that he promised to bring the kids to Honeybee Mountain as part of their vacation. Banjo would question where they were and so would Boggy.
"I don't get it, they were right here a minute ago..."
and then Kazooie would make a sarcastic remark. Plus, it would be kind of funny in an ironic way to see a polar bear and his kids at an indoor beach, in swimwear.
But then again, instead of a hotel or casino, Honeybee Mountain could be inside of a bio-dome which attracted tourists. However the place would be decorated, though, would all depend on the people here that would design it. What do you guys think? I'll try to post pictures very soon of how I imagined the interior design of the building and how I imagine the scene would look involving Banjo talking to Boggy.
Another idea that I happened to come up with today is that the level could have palm tress with beehives in them instead of coconuts.